Institution Details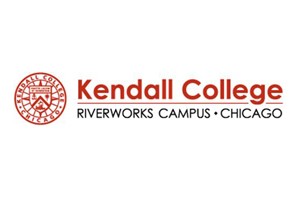 Kendall College

Description:
World Class Culinary and Hospitality School in World Class City
Kendall College founded in 1934 is one of America's top culinary schools with a rapidly expanding international hospitality management program, has embarked on a new era by moving to a sparkling new campus in Chicago. The new Riverworks campus is a showpiece facility with 16 state-of-the-art professional kitchens and unique amenities open to the public.

After more than 70 years in Evanston, Kendall's move has better aligned its world-class culinary and hospitality programs with a city known for its top restaurants, chefs and hotels. Kendall's new campus, located along the Chicago River in Chicago's Goose Island neighborhood, is situated adjacent to a thriving restaurant and entertainment district and is just minutes from downtown.
A Unique Education Experience

Throughout its history, Kendall College's mission has been to prepare students for careers by providing the skills and approach critical for success. The school offers associates and bachelor's degrees in Culinary Arts, Baking and Pastry, Hospitality Management and Early Childhood Education. Each area of study is taught with a real world, hands-on approach and a low student-to-faculty ratio, ensuring a personalized educational experience. Internships are an integral part of every Kendall program, and students graduate with both education and experience in their chosen fields. In addition to working closely with leading restaurants and hotels in Chicago, Kendall College works in partnership with cultural and educational institutions to develop innovative, market-driven programs.

Kendall College's goal is to produce highly skilled, creative professionals who take pride in Chicago and contribute to the City's reputation as a world-class destination. Kendall College culinary graduates work for some of the top restaurants in Chicago, including Charlie Trotter's, Ambria, Spiaggia and the Four Seasons Restaurant.
World-renowned Hospitality Program Offered Exclusively at Kendall

In July 2004, Kendall College and Les Roches Hospitality Management School of Switzerland announced a partnership to bring Les Roches' industry-leading International Hospitality Management program to Kendall in Chicago. The new bachelor's degree program started in September 2004 at Kendall's Chicago campus.

The association between Les Roches, one of the world's premier hospitality schools, and Kendall's top culinary school, gives Kendall students access to a global platform of courses, programs and expert faculty and allows Kendall students to study abroad at Les Roches campuses in Bluche, Switzerland and Marbella, Spain, as well as giving Les Roches students the opportunity to complete some of their studies with Kendall in Chicago.
Courses Available
Arts
Convention & Meeting Planning - Bachelor of Arts
Early Childhood Education - Bachelor of Arts
Early Childhood Leadership & Advocacy - Bachelor of Arts
International Hospitality Management Honors Program- Bachelor of Arts
Hospitality
Associate of Applied Science in Culinary Arts
Bachelor of Arts in Culinary Arts
Culinary Arts Certificate Programs
Culinary Management - Bachelor of Arts
Food & Beverage Management - Bachelor of Arts
Hotel Management - Bachelor of Arts
INTERNATIONAL HOSPITALITY MANAGEMENT PROGRAM featuring the world-renowned Les Roches program
Science
Associate of Applied Science in Baking and Pastry
Country

United States
United States of America, a federal republic consists of 50 states. All the states lie in the mainland expect Alaska and Hawaii Islands. Alaska lies next to North West Canada and Hawaii, 3700 km off the west coast of the mainland.