Institution Details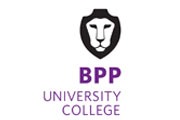 BPP University

Description:
BPP University is one of the UK's leading Universities dedicated to business and the professions. BPP University is a UK degree awarding body providing its own awards through four schools: BPP Law School, BPP Business School, BPP School of Health and BPP School of Foundation and English Language Studies. BPP University also offers some programmes of study leading to the awards of other bodies and these are indicated on the relevant programme pages
BPP University is one of the UK's leading Universities dedicated to business and the professions and in 2010 became the winner of the prestigious Education Investor award "Post 16 education provider of the year". BPP University has centres throughout the UK and also in Amsterdam, Holland.
BPP University is a separate legal entity and division within the wider BPP Professional Education group. BPP University has its own separate governance and regulatory structure reflecting the national importance of BPP University as a degree awarding body approved by the UK's Privy Council.
BPP Schools:
Business School
Law School
School of Health
School of foundation and English Studies
Courses Available
Business
BSc (Hons) Banking and Finance
BSc (Hons) Professional Accounting
Finance
MSc Management with Finance
Healthcare
Masters in Clinical Dentistry
Law
LLB (Hons)
LLB (Hons) Business Law
LLM (Commercial Law)
LLM (International Business Law)
Management
BSc (Hons) Business Management
MSc Management
MSc Professional HR
Country

United Kingdom
UK Education offers independent thinking, give you the freedom to develop your ideas, make discoveries and develop real skills that employers are looking for. UK has produced more than 100 Nobel Prize winners, a testimonial that UK graduates are at the forefront of the creative and research industries With many renowned ancient Universities such Cambridge, Oxford, Edinburgh, UK is one of the most popular destination for further education for students all over the world.